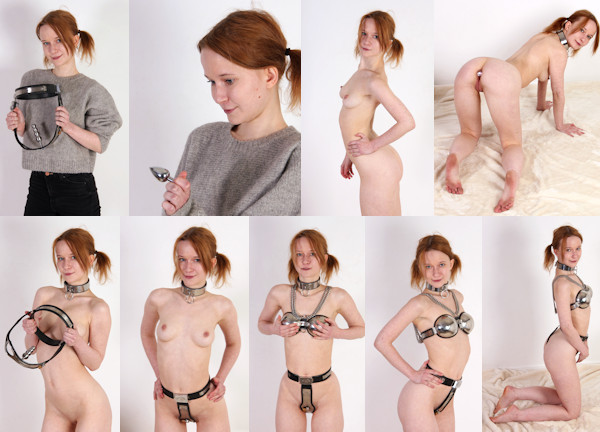 Cute girl Sweetie Plum visited the studio, she was very curious about full chastity. 'With plugs please!!', she said, which kind of suprised me at first. She seems to have a big love for plugs, and she is actually pretty experienced in double plugging, believe it or not. You would never be able to tell from her sweet innocent face!
In fact, she loves anal plugs so much, she owns a lot of them and she always wears one at home. For training, she says. Sweetie seems to be very submissive and eager to please. It was going to be her first time in chastity! I asked her to insert a jewel butt plug and she did it with ease! No problem at all for her. You can clearly see she had lots of training. A collar was locked on, which she loved very much, and then I gave her the belt with a vaginal plug.
To my surprise, she took out the jewel buttplug before putting the belt on. I thought maybe she didn't want to wear both as she is very tiny and there wouldn't be enough room inside her for two plugs. But that was clearly not the case, as she inserted the vaginal plug in her ass!! I told her it was the wrong hole, the belt wouldn't be able to lock. When she understood her mistake, she tried again, now using the vaginal plug correctly. After the belt was locked on, I said she should put her jewel buttplug back in (of course!).
Finally, a chastity bra was locked onto her, and she said she felt like an 'iron lady'. She surely is a warrior in shiny armor! A plug warrior! This girl is amazing, she can probably handle much bigger plugs, and I can't wait to sign a Deal with her when she comes back! Double anal plugs anyone?!