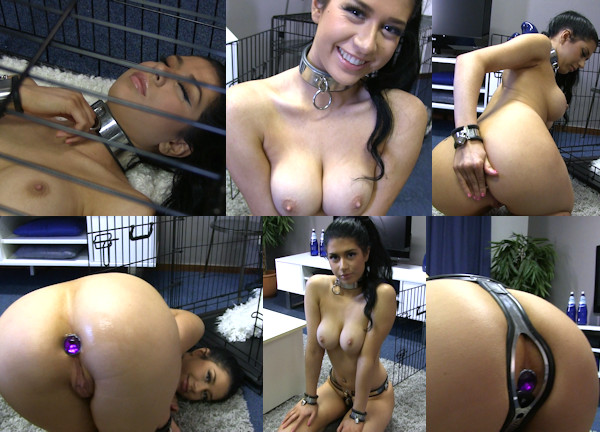 After she earned her little break from her chastity belt, Little Lanta was put back in her cage to have a rest. She was pretty tired from her deepthroat challenge!
She really hated the chastity belt so much, but she knew she was going to be locked into it again. But before I put her back in the My-Steel belt, I took out the vaginal plug. Little Lanta seemed happy about that, until I gave her a little surprise: a jewel butt plug! She was going back into her chastity belt wearing an anal plug this time! It's a good thing she is very submissive and well trained, because I know she hates chastity belts and plugs!
Obediently, Little Lanta turned around and slowly inserted the jewel butt plug. She sighed with relief when it went in, she had to push quite hard. Then I made her put her little My-Steel hip belt back on. Little Lanta is a good pet! I love all the tricks I have taught her, she can put a boob in my outstretched hand, she can turn around and show off her cute butt, and she goes in and out of the cage by herself. She is the perfect pet! Okay, she hates chastity belts… but she will get used to wearing hers… eventually.