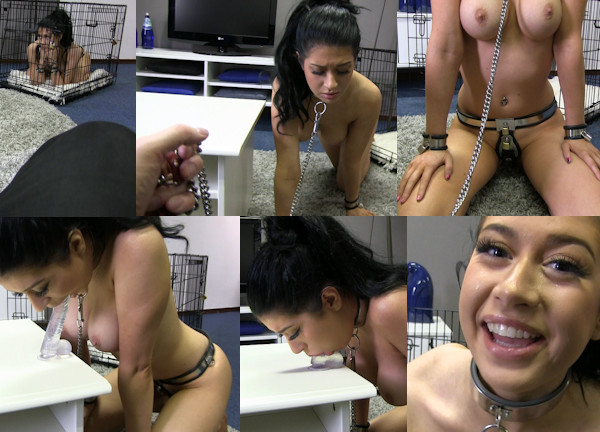 Remember the incredibly cute and flexible Little Lanta? She is so much fun! A true submissive and into pet play, Lanta can be bent into any shape because of her gymnast background. There is only one problem: she hates chastity belts.
Imagine sitting in your living room and there's a cage with Little Lanta in it (or 'Pet Lanta' as I call her). You know she desperately wants out of her chastity belt, because she loves masturbating A LOT. Also, there is a vaginal plug deep inside her that makes her so horny she can't think about anything else. Lanta just wants to rub herself! She would do ANYTHING to get the belt off.
So I had a cute pet girl who is deeply submissive and very desperate. I attached a leash to her collar and let her out of the cage. Lanta already knows some pet tricks. For example, when I hold out my hand she puts a boob in it, allowing me to squeeze her cute breasts. But today, she will have to perform one more trick to get out of her plugged belt (for a short while!): Little Lanta will have to show off her deepthroat skills!
Of course, she is a good pet and she tries her best on the dildo that has been placed on the table. Tears start flowing from her eyes, but she is determined to do a good job so she can take off the belt that she hates SO MUCH. I have never seen a girl who dislikes chastity as much as Little Lanta. She is an amazing submissive and a cute pet girl, as long as you give her hope for a short release so she can touch herself. Enjoy this super cute pet play video!