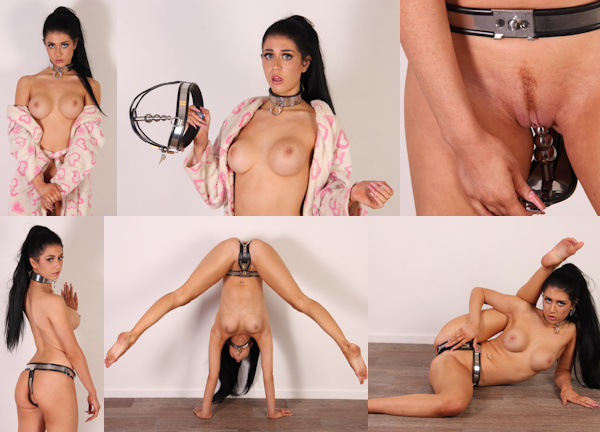 Atlanta Moreno (or 'Little Lanta' as she is also known) is a famous Babestation tv babe from the UK. She is also one of the best gymnasts ever, with a bubbly butt and the cutest face! She can bend, spread, flex in ANY position you want her in. She is like a tiny toy, so much fun to play around with!
She doesn't do many shoots, as she likes live performances more, but I just HAD to get her to Holland for a Casting. I mean, there is so much fun to be had with hyper flexible gymnast girls! Amazingly, Little Lanta was intrigued and she hopped on a plane! I am very happy to show you this update, it is more proof that chastity belts can be worn all the time, by anyone. Chastity belts are fun!
Little Lanta turned out to be even cuter and tinier than I had imagined. She is also 100% submissive and very kinky (but not many people know this), that's why she was intrigued! She wanted to be collared and locked, but at the same time, she hated the chastity belt A LOT. It's hard to explain, even for her. She can do all kinds of bondage, even get tied up in the most insane positions, but a chastity belt is real torture for her. Little Lanta does NOT like the fact she can't touch herself.
I was nice enough to put a big plug inside her tiny hip-style My-Steel. Lanta admitted it 'was at least something'. To take her mind off the fact that she was belted, I asked her to do some of her famous moves. This girl is amazing! One of the best (and hottest) gymnasts in the world doing handstands, splits, and a lot more moves with fancy names! In a plugged tight belt! The belt remained tight and she couldn't get a finger in, no matter what position she put herself in!
She has already contacted me again: she wants to do a Chastity Deal where she can be a collared and belted pet (caged, leashed, trained). Needless to say she is coming back soon!!!