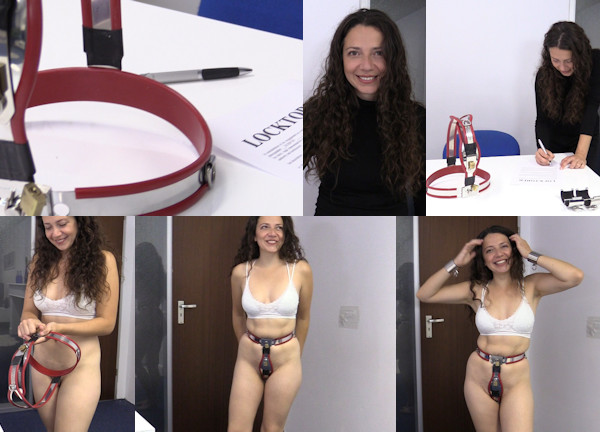 Of course we are going to do a Locktober Deal here at ChastityBabes.com! Not many models can travel here at the moment, but no worries, I still have one of the most popular Chastity Babes right here with me. It is my lovely studio assistant Anahí!
As you know, Anahí has her own red My-Steel which she is required to wear whenever she works in the studio. She also has her own collar and cuffs. I thought it would be perfect for her to try and stay locked in her belt for the entire month of October, as many people around the world are doing. It shouldn't be too hard for her, she is completely used to her tight My-Steel and she has often worn it for longer than a day. She also doesn't live very far away (less than an hour on the train) so I can offer her cleaning breaks and checks during October.
Anahí got locked in her belt on the 1st of October, so we were technically already too late. She kind of knew it was going to happen, but I didn't give her the full details yet until I recorded this video. Anahí did not seem too concerned. She knows how to use the toilet in the belt, she is good at hiding it, and she feels safe with me as a keyholder. So she happily signed her Locktober contract and locked herself up. I did not include a collar in the contract, because that would be too hard for her in daily life and her other job. Her wrist cuffs I made optional, but she loves them so much, I think she is going to wear them most of the time.
Also included in the contract are daily reports, selfies, and status videos. And for cleaning breaks she will come over to me so she can be supervised. Anahí is in the studio at least 2-3 times a week anyway. Because some of you have asked: yes, it is possible to order a personalized custom video with Anahí during Locktober. Or even more interesting: you can come visit the studio for a meet and greet with a locked Anahí any time during Locktober!!
Let's wish her the best of luck and I am pretty confident she will make it! It will be fun to watch her positive spirit float around in many updates with her awesome red My-Steel!