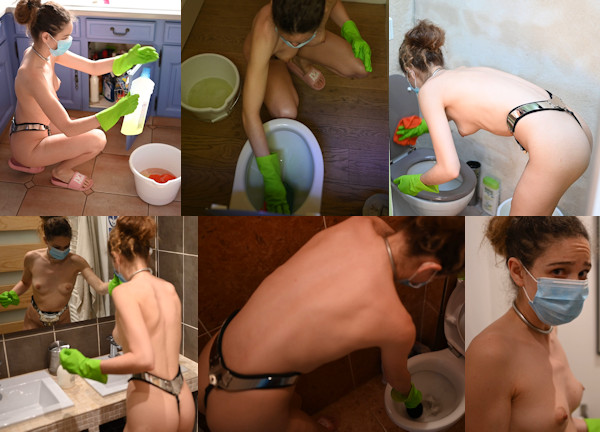 We have received news (and video!) from Lizanne's Master again! She is still collared and belted in her own Carrara belt and she is doing well during these strange times. Carrara is such a suitable brand for Lizanne, as they are both from Belgium! I don't know if she likes wearing it, because she is so submissive she does not even mention the belt anymore. I guess she is very used to it now, see for yourself in this video! Lizanne will always do as she is told, and right now, she is in a long chastity assignment for her Master. There is no school, no work, Lizanne is at home all the time, which makes it easier to be locked 24/7!
But Lizanne is not just hanging around at home. Her Master makes her do lots of chores! She is not allowed to wear any clothes at all at home and it is a large house with a lot of cleaning to do. Master even has friends over (you can hear them in the video) and Lizanne is STILL not allowed to wear clothes. She doesn't seem to mind: her submissive mind is focused on her tasks. Chastity belts make girls really focused, as we have found out over the years. They study better, clean better, have improved memory, and they are more on time! It's simply because they can't get distracted playing with themselves.
Today's task is not the nicest one: cleaning the toilets. This house has got a LOT of toilets! And some of them have been left in a very nasty state, enough to make poor Lizanne gag, even though she is wearing a face mask. Poor girl. Life is not easy as a belted house slave!
4K video! (just a test, let me know if you have trouble playing the file)