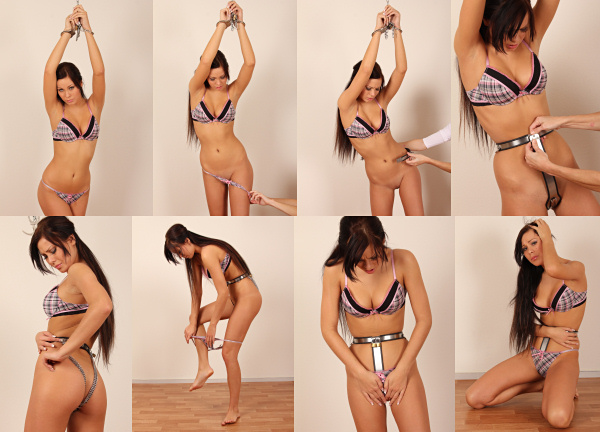 Some of our members want to see a more strict way of casting new girls, and now Alyssia is the first victim this request. We just told her it was all the members' fault :-)
Chained to the ceiling, Alyssia is standing and waiting, wearing only lingerie. She has a tall slender body, very long hair, and she is a little apprehensive about what is going to happen. We did not give her many details about this casting.
Our webmistress is quick to pull down Alyssia's panties, and before our casting girl can respond, the chastity belt is already snapped onto her tiny waist. Pulling up the crotch piece makes Alyssia feel the chains tighten between her ass, and the belting is complete before she can really say more than 'I don't want it'. Now the dual padlocks and padlock protectors are installed and clicked shut. Alyssia is powerless, and all she can do is look down to where it is all happening.
No need for handcuffs anymore, we release the freshly belted girl from the ceiling. She tugs the locks, and then quickly grabs her panties from the floor to put them back on over the belt. We guess it makes her feel a little less vulnerable, but it doesn't make much of a difference. Alyssia is left belted and a little stunned. What just happened?