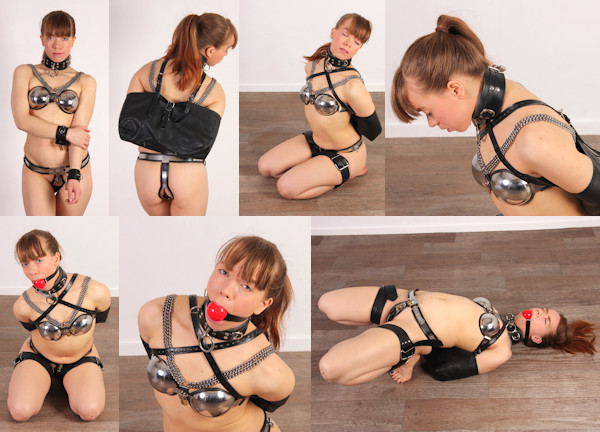 You wanted more Josie! And I can't blame you, because she is one of the most perfect Chastity Babes I found recently. Did you see her incredible update on MetalBondage.com? Josie is incredibly flexible in her lower back! And she will help me prove that girls can wear chastity gear at all times, even doing gymnastics and other sports. There is NO need ever to take chastity gear off (except for regular cleaning, but that should be supervised!).
Josie herself is really surprised with all the positive feedback she has been getting. She messaged me if she could come back soon, and I already arrange for her to sign another Chastity Deal next month. If you have any suggestions, send them in quickly! Also, I have been asked if Josie can do custom videos. She will have plenty of time in chastity to record a video for you, so email me if you have something special in mind! Josie will be back in this belt, bra, and collar (and maybe even more) next month!
For this BeltBound.com shoot, Josie was strapped in a boxtie armbinder, with big straps on her legs so she couldn't stand up. I found a huge ballgag (and Josie is only a small girl), which she could take, much to my suprise… and Josie's. Josie spent a good deal of time in this leather bondage, her jaw spread wide open with this huge ball. She had a great time wriggling and struggling around. She fell over at one point, and she couldn't get up again, which was quite cute to watch! This BeltBound.com update probably won't be published for a while, so this is an exclusive preview (with behind the scenes footage) of that shoot!