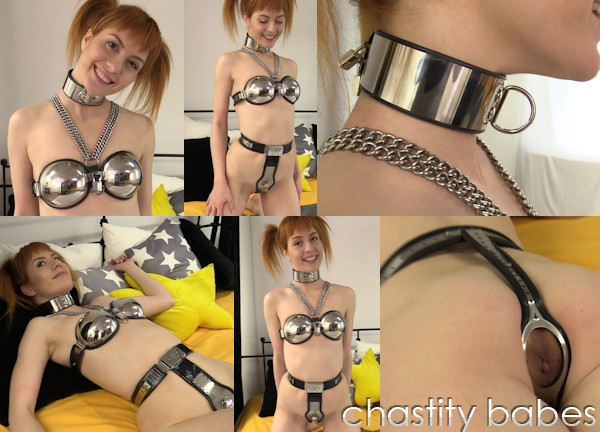 Polina is back! She is very special, because she literally doesn't care about being locked in chastity gear. She likes tight bondage, maybe that's why she can handle the gear for a very long time. I have not found any duration limits yet with her!
With her new cute red hairstyle, Polina is happily trading 5 days of accommodation in Holland for 5 days in a chastity belt, chastity bra, and collar. She doesn't have much money, and a free place to stay (with food!), as well as some extra cash at the end of the Deal is very welcome to her!
I am not planning to give her any toilet breaks either, as the belt is so perfectly aligned on her, she can easily do both toilet functions through the belt. The anal opening has the best line up of any Chastity Deal I have ever done, it would be a shame to take the belt off! Of course, she will get a hygiene break, but as few as we can get away with, because I want this to be a real Challenge for her. This tiny girl is a bondage lover, so we will also shoot a lot of bondage clips (very tight, as she is crazy flexible), and for the rest of the time she is free to do whatever she wants. Well, not free… you get what I mean.
Cute tiny Polina for 5 days in full chastity! My life certainly isn't bad at all!