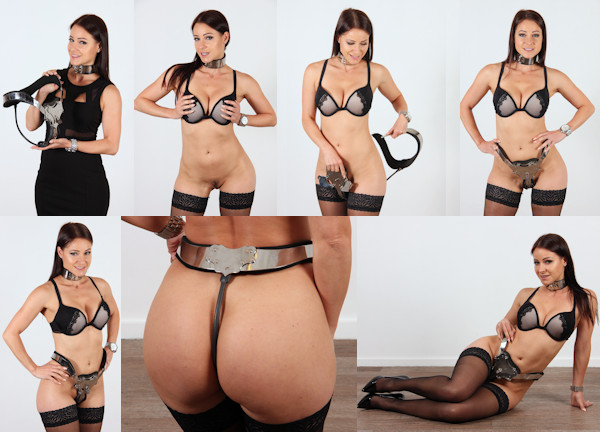 Possibly one of the most famous of my Chastity Babes, Melisa Mendini (or Melissa) has won many sexy awards, including one for the world's best butt! She does have an awesome tiny body, and a super cute voice! I am always happy to be able to shoot with Melisa again, even though sometimes we only have an afternoon when she tours Holland.
I locked her in a custom made collar, that has two locking posts in the back. When it is locked with 1 padlock through both posts, it does not rattle at all, which is great for hiding it under clothes (a scarf). But the main question was of course: what would Melisa think of the Carrara belt I handed her? She knows she will have to be locked when she comes over, but she had never seen this type of belt before.
My guess was that she would be pretty happy, because of the huge amounts of padding on the hips that is standard on Carrara belts. It makes it much more comfortable to wear. Melisa stripped down and locked herself in the belt, not even checking if there was a key. I like that! She thought it was very comfortable indeed, the best belt she has worn for this website so far!
I made her throw a six sided die, to see how many hours she would have to spend in this belt. Check the video to see what number she rolled! Melisa is always cheerful and happy, I really enjoyed her little sexy visit to my studio! Let's hope she will come back soon for more reviews, or even a longer Deal!