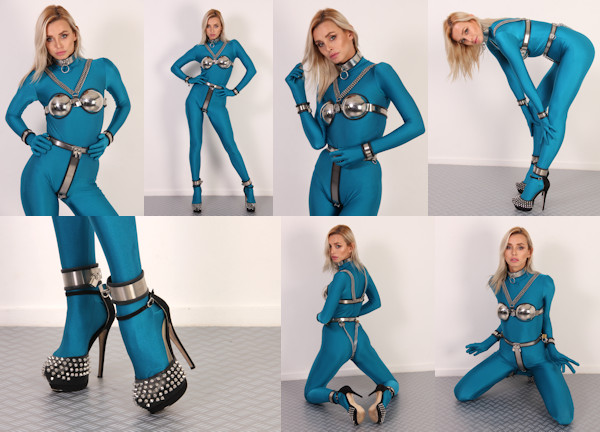 Dominique still visits once in a while and she likes to do themed photo shoots with a chastity outfit. She is so stunning, and she can model really well! When she saw a zentai suit in my studio, she commented how the color was matching her eyes.
So we got the idea of shooting her in this zentai suit, with full chastity gear on top of it. It turned out to be a beautiful picture set, and she was right: the color was amazing! Combined with the metal of her belt, bra, collar, wrist cuffs, and ankle cuffs… it's just wow!
Also included is a video of the photo shoot, a behind-the-scenes camera roll, where you can see Dominique move around while she is posing. I joked around with her, locking her wrists to the sides of the belt and giving her a bottle of water. Dominique is always a good sport. She would probably not do a Chastity Deal anymore (the one she signed with her mom was a little bit too extreme in hindsight), but she will always visit me and get locked up in metal for a day or so.
I'm very fortunate to have made such good (and pretty) friends along the way, and we have created many beautiful memories to look back on! Dominique will hopefully return to my studio soon, so if you have any ideas for a cool artistic concept, or a challenge, let me know!