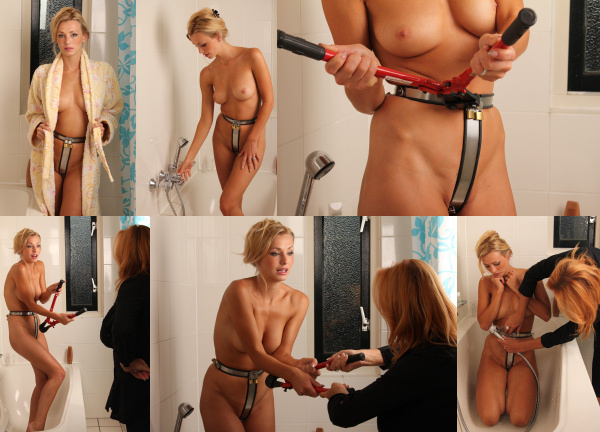 There is a lot more to Dominique than meets the eye. Although the part that does meet the eye is very beautiful, she is a smart and cunning girl, and she is about ready to try a daring escape from her belt. Why? Maybe she met some nice guy in town, or maybe she just wants to play with herself after all these months.
In the shower, where her mother Francis can not see her, Dominique has somehow hidden a huge pair of bolt cutters. Quietly, she slips off her robe and picks up the tool. It turns out to be very hard to operate a pair of bolt cutters on yourself, now she wished she had picked a smaller pair…
But it is already too late, her mom storms in and grabs the bolt cutters from Dominique. The poor chastity babe can not win the tugging battle and she ends up with nothing, still firmly belted, double padlocked, pussy lips caught in the shield cage. Francis is furious and reminds her of the signed contract.
With her mother's trust gone, Dominique will have to be washed and bathed by her mother for quite some time before being allowed to shower on her own again. Life is getting harder on our poor contracted chastity babe, but we certainly like Francis' enforcement.