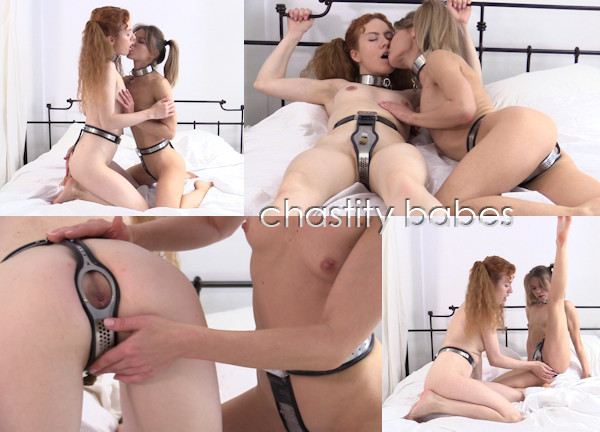 Very unexpectedly, tiny Russian submissive Polina contacted me again after her Casting and Chastity Deal! Remember her? She was so cute, and the chastity gear looked so big on her! Polina is a very small girl, but I managed to resize a belt and a bra just for her.
She messaged me she was coming back to Holland with her friend Nedda. Well, if you google 'Nedda A nude' you will see how incredibly popular this girl is! Wow! And here is the most unbelievable part: she is even smaller than Polina! Hmm, wait… no the most unbelievable part is: they are girlfriends!! So basically Polina messaged me asking if I would be interested in shooting a video with two tiny lesbian lovers in chastity. Well… okay if you insist :D
And I wasn't disappointed! Wow, these girls really got into it. After I somehow fabricated the smallest belt I have ever adjusted, and locked them in collars, they relaxed on the bed to see if they could still touch their (and each other's) favourite spots. Polina and Nedda might be the hottest duo I have shot so far! They kiss eachother all the time (and I mean KISS) and their prying fingers were all over their belts, especially the rear opening of course. Don't miss this hot video, it is definitely worth watching!