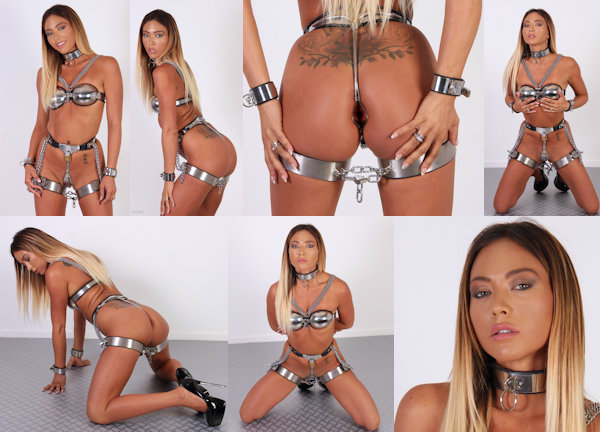 Natalia Forrest was in it for the weekend. I started with just a tight FancySteel belt, as you have seen a while back. But that wasn't all: I added a chastity bra, collar, wrist cuffs, and thigh bands. The belt and bra were very tight, Natalia even said it was the tightest ever! But then again, she always complains. The problem was, there were rattling locks on her wrist cuffs and thigh bands, so she started annoying the hell out of me by shaking her arms and butt, making an incredible racket! I knew I was in for a looong weekend of Natalia complaining and getting annoying with her rattling outfit.
48 hours in a tight full chastity outfit is hard enough. Natalia couldn't even lie down properly (although she tried doing that on the cold hard floor) and she had to walk with her legs slightly open. Breathing was restricted because her chest can't fully expand, and everything is very noisy. She was shocked to find out her pussy lips were pushing through the primary shield slot, behind the perforated secondary shield. Maybe it was all a bit tight, but most of you will agree that Natalia would otherwise definitely try to get a finger in to touch herself. She is a VERY horny girl and 48 hours without touching herself is torture for her.
I hope you are ready for a lot of funny outtakes, complaining, annoying rattling, and hilarious reactions from Natalia. She is a stunning girl, full of life, and very dramatic at times. But first and foremost, she is tough! It takes a lot of willpower to do this kind of Deal, especially with all the added challenges I had in mind for her over the weekend!