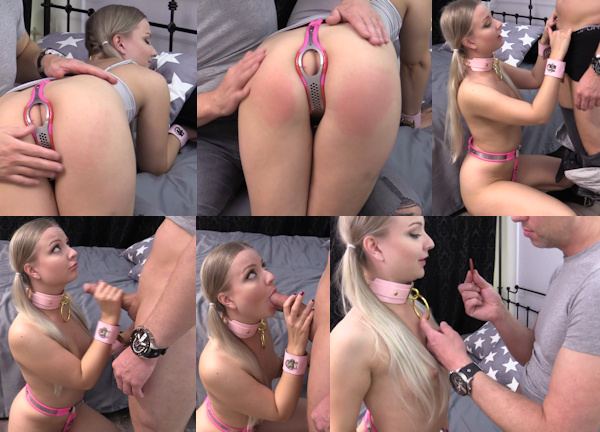 You wanted to see more Master M and slave L! Well, here they are again with a demonstration on how slave L can earn chips for her chastity release. Remember, she needs to earn 25 chips before she gets unlocked for her own orgasm. Apparently, she can only earn 1 chip at the time by pleasing Master M!
Locked in her pink chastity belt, pink collar, and pink cuffs, slave L looks super cute as Master M leads her into the bedroom. But it is not a blowjob he wants this time. He wants to spank her little ass until it is red. By the looks of it, slave L is very used to spankings as she barely protests and she even seems to like it! After her ass is spanked nice and red, she gets on her knees and gives Master M a sensual handjob and blowjob! Those eyes! The way she looks at Master M, you can tell it is a true D/s relationship.
When Master M is satisfied with her efforts, he lifts her up by her big gold collar ring and gives her a poker chip and a pat on the head. Only 23 chips left to go for slave L's orgasm! She seems excited!