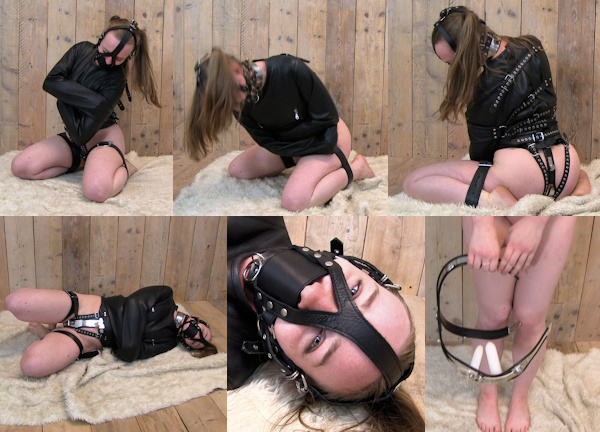 Finally, a real Challenge for Kerry! She calls herself Captured Kerry, and she got what she wanted on the last day of her Chastity Deal! Full leather bondage, very restrictive, so she could struggle very hard, like she had been asking me during the entire weekend.
A tight leather straitjacket, belts around her legs so she couldn't get up, and a leather harness muzzle gag. This is what it takes to make Kerry a very happy girl! Of course, she was still locked in her NeoSteel, with those two big rigid nylon plugs inside, so she would definitely feel any struggling. Especially since the straitjacket crotch straps pushed the plugs in deeper as she moved and pulled her arms up.
I let her go crazy for a while, she seemed to enjoy it very much. But when she got exhausted, she fell over on her side and couldn't get up anymore. I released her from her leather bondage gear and told her the good news: she had made it. Her Chastity Deal was over. Kerry did not seem very relieved. She probably could have done a longer Deal, but she needed to go back to Scotland and return to work. So we needed to leave for the airport very soon!
Kerry took off the belt after 72 hours (minus a few toilet breaks) and the two plugs slid out very easily. A little embarrased, Kerry looked at the belt as if she couldn't believe she had been locked in it for 4 days (3 nights). She would definitely live in a chastity belt if she would find the right Master and keyholder who would get her a custom made belt. Sadly, she doesn't own a belt, but I hope that will change soon! This girl belongs in a belt. Forever. Preferably with 2 plugs!