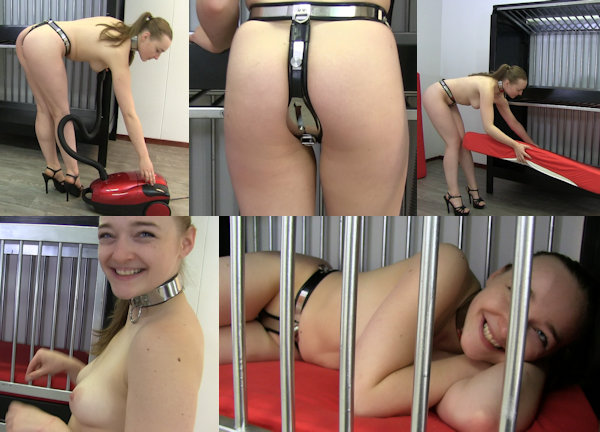 Kerry was doing so well during her double plug Deal! I have never seen a girl move so much with 2 plugs inside. She loved all the Challenges and asked for more bondage all the time. Yes, Kerry really loves tight (tight belts, tight bondage, tight everything). She is a pure submissive and she loves to feel helpless and give away control. Well, nothing beats sliding two big plugs into yourself and then handing the keys to someone else!
This was filmed when I had just finished building my double decker custom nap cages. They were built (with the help of my assistant Anahi) for Chastity Babes to take naps during their Chastity Deals. I had been drilling and sanding, there was some wood dust on the floor still, but the paint had just dried and the cages were ready. Kerry would be the first girl to test them out. But first, she needed to get to work, vacuuming the room and putting the matresses in the cages.
Interesting to see Kerry move around the room, double plugged and STILL refusing to take off the heels she had been wearing for days (even to bed). She likes making things as hard as possible for herself. When I asked Kerry which cage she wanted for her nap, she had to admit the lower cage was the only one she could get into, as climbing up would be too hard with her heels and the two plugs inside her.
She is such a cheerful girl. There is literally nothing someone can do to wipe that smile off her face. Yes, she felt those plugs (especially the rear one) every second she was in the belt. She could feel them get deeper when she was bending down or crouching. But Kerry loved it! She did not complain once, she just keeps going and going. But now I made her take a little break. No phone allowed, just a cage nap. There would be more bondage Challenges soon!