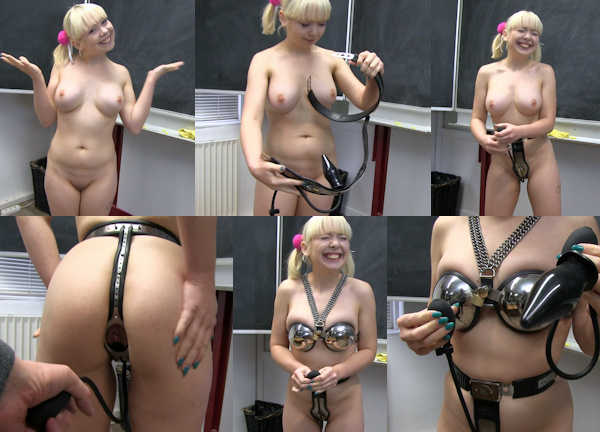 Cherry English is back! This British sweetheart is still as cute as ever…. and very naughty! She loves everything to do with vibrators and plugs, so this is a perfect opportunity to try the inflatable pump plug again!
Since Cherry is pretty tiny, this plug is going to be huge inside her once it is fully inflated. She does not seems scared at all and inserts the deflated plug with a lot of confidence. After a bit of fiddling, she gets the chastity belt locked on. It is incredibly tight, pushing the plug deep into her pussy. Cherry is all smiles at this point! When I give the plug a few pumps, she squeals with pleasure and surprise. Yes, it is very very big inside her. She feels incredibly full, and the tight belt pushing on her lower body makes it even more of a strange inflated sensation.
I tell Cherry to get locked in a chastity bra as well, because I can see how horny she is getting. I don't want her to touch herself, I only want her to be able to play with the pump plug, inflating and deflating it inside her, arousing her but she can not get any real climax pleasure from it. It will be so frustrating for her!
After some more experimenting, Cherry is still smiling and playing with the inflatable plug. She can't stop pumping and deflating! I get her a second inflatable plug and tell her to inflate both at the same time so we can see how big the actual plug is getting inside her. It is huge! Cherry is getting so horny in her chastity gear! I decide to leave her alone for a while, I hope she doesn't explode (from arousal or from pumping)!!