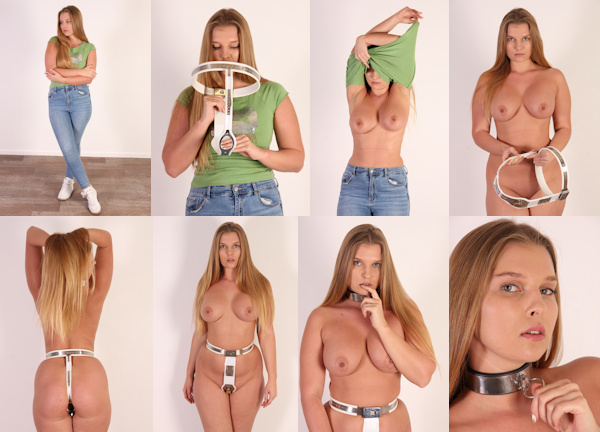 When I got this email saying: 'Hi, my girlfriend Ariel lost a bet, so I want her to get locked into a chastity belt, can you help?', I was a bit skeptical. Until I opened the email's attachments! Wow, Ariel must be one of the most gorgeous curvy teens I have ever seen!
Sure, send her over!! Ariel's boyfiend kept his promise. Okay, it took 5 months, but Ariel finally arrived at my studio. And she IS stunning. Also, she had no idea why she was at my studio. At 19 years old, she had never even seen a chastity belt before. Her boyfriend did not even come with her, he just put her on a plane to Holland for a 'fetish photo shoot'. I guess they have a good D/s dynamic going on with a lot of trust involved.
Poor Ariel was very shy, and did not say much, but she was quite easily convinced to strip down completely naked. Before she knew it, she was locked in a chastity belt and collar. Ariel was just standing there, she is not a professional model, so she did not really know what to do. I didn't know either, I just wanted to see her reactions to the belt and collar. It was a bit difficult to read what she was thinking. I think she was just doing as she was told, and she wanted to try her best. She had a few hours to go in my studio, all nude, locked in her belt and collar.
But what I did not tell her (yet) was that her boyfriend had also requested Ariel to be double plugged! If you want to see how that went, be sure to check this site next Wednesday again!