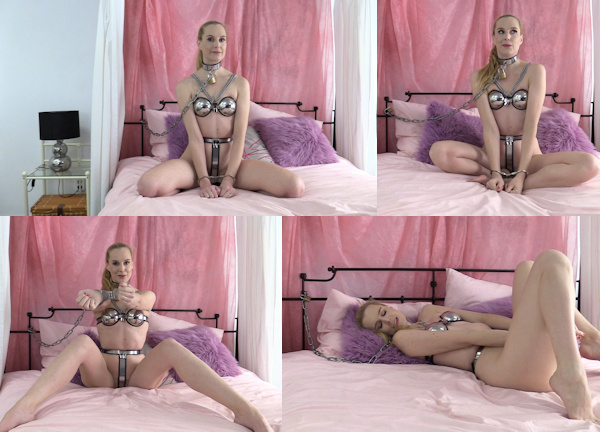 The famous Ariel Anderssen comes over to shoot in Holland about once a year. And I always manage to get her into a short (2-3 day) Chastity Deal. It is amazing she even has time for this, but as it turns out, chastity is one of her biggest fantasies (in fact, she contacted me the very first time she came over!).
She is always very excited to get locked up again, but as with every girl in a Chastity Deal, the fantasy and reality often don't really match up. For anyone who is thinking about doing a Chastity Deal over here, videos with Ariel Anderssen are a must-watch!! Ariel, in her usual eloquent way, will explain very clearly why it is not so easy to do a weekend in chastity gear. She can explain things better than anyone I know, so just listen to what she has to say!
Ariel talks about the tightness and problems with getting comfortable, while also explaining about boredom and frustration. Surprisingly, for such a posh British lady, Ariel also talks about how excited and aroused she gets in chastity gear. She even mentions an idea she had before: wearing nipple clamps UNDER a chastity bra. This is the second time she has mentioned this. I will try this soon, it is a very good idea (although very painful) for a Challenge.
Oh, and Ariel thought it was completely unnecessary to chain her collar to the bed and lock her in hinged handcuffs. She is probably right. But I know she can handle more than a bit of bondage, so she was fine! We did a few fun shoots with Ariel in chastity gear, and she told me it was an interesting weekend with some unexpected thoughts and experiences!