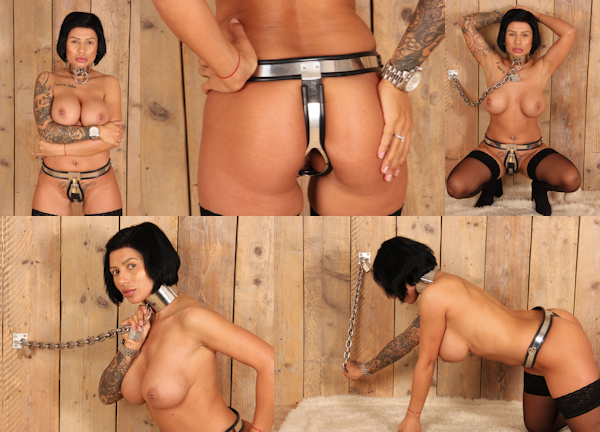 Cory is a slave girl from Romania. Her current owner sent her to get belted and collared. He called her a 'bimbo'. Not sure about that, but Cory certainly makes a great service submissive, with her big lips and huge boobs.
I have known this girl for almost 10 years, and she has since been transformed into a sexual pet. Shorter hair, nipple piercings, bigger boobs, more tattoos, but still the same quiet submissive slave girl, even though she had a rough life and many different owners, since her first appearance on this website. I like it when people send me their submissive for a chastity belt training and I am always happy to help. Apparently Cory needed to be taught a lesson because she loves touchign herself a bit too much!
A very tight hip-style My-Steel looks great on her. Cory did not really like her belt, but she never complains (or says much at all). The thing she REALLY did not like is the tight heavy steel collar I locked her in. It was a bit tall for her, and very heavy, especially with the thick steel chain attached to the wall.
She spent some time chained to the wall, so perhaps the biggest punishment was the fact that she couldn't reach her phone. Cory still needs a lot of training, and I am sure her owner will give her that. I just know he will be very happy to see her on this website, topless and chained, for everyone to see.
If you would like your submissive over for a little chastity lession, do not hesitate to contact me. I am always happy to help!