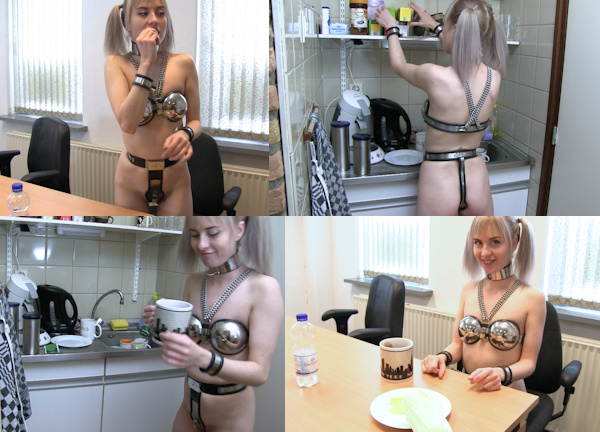 Meanwhile, with Polina, I started to work through the language barrier. She is actually one of the funniest Chastity Babes ever! We understand each other a lot better now and she is hilarious.
Still locked in her tiny tight belt and bra, Polina is having a great time in Holland. She even would agree to a much longer Chastity Deal, but I had to let her go because I ran out of time (other girls were coming over)! She could actually stay locked for months if that would let her stay in Holland. She loves it here so much I wonder if she has anything at home to go back to.
Watching her eat her lunch with her little pig tails, cute collar, and her wrists chained together, I just had to smile. She is actually eating an entire lettuce head for lunch. And when I asked her why, she said she didn't want to get fat because of the tight belt. And she doesn't want to go to the toilet so often, because I make her pee through the belt and she thinks it is hard to clean. At which point she decides to make a HUGE cup of tea. Polina is just so funny!
I really need more places to host Chastity Deals, because I am running out of time keeping all girls locked in Holland. I have 2 spare bedrooms in the Chastity Mansion but it has been really busy. If you are in Holland and you have space AND TIME to host Chastity Babes, get in touch! I can use some help. I can assure you, it will bring a smile to your face seeing these girls run around at your place. Especially if they are like Polina, she is so silly and cute!