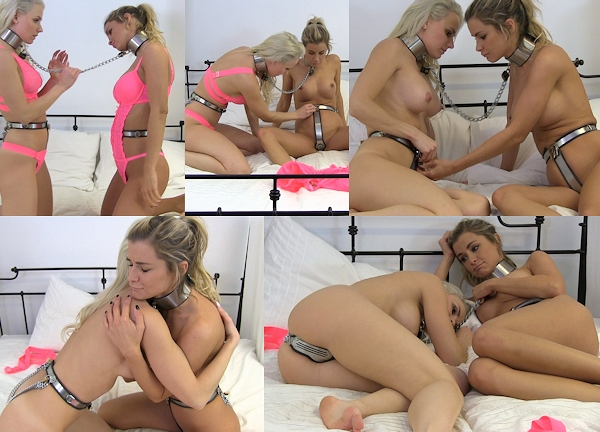 As you may have seen, the lovely Misha (who is actually one of the top Chastity Babes here) visited me again with her new friend Bridgette. I locked them in chastity belts for MetalBondage.com (check it out if you missed that one!), and they had a lot of fun being my slaves for a day.
With similar body types and wardrobe, it was just fun to get them in matching chastity belts and collars, and let them spend some more time together, as they really seemed to be good friends. This was all in good fun, I don't think Bridgette is a real submissive, but she is really beautiful and having her try a belt and collar (for her first time!) was a great day for all three of us.
Of course, I did not just shoot a MetalBondage update, I actually chained their big collars together and filmed them on the bed. To my surprise, they removed their lingerie quite fast, curious as they were to explore their restraints. They seemed to think it was an escape challenge of some sort, tugging the locks, and trying to find the keys somewhere under the pillows and sheets. But there were no keys. I just wanted to see them deal with the chain linking their collars. They are best friends, but would the chain annoy them? Or would they be able to coordinate their movements for a while? Interesting and VERY sexy!!