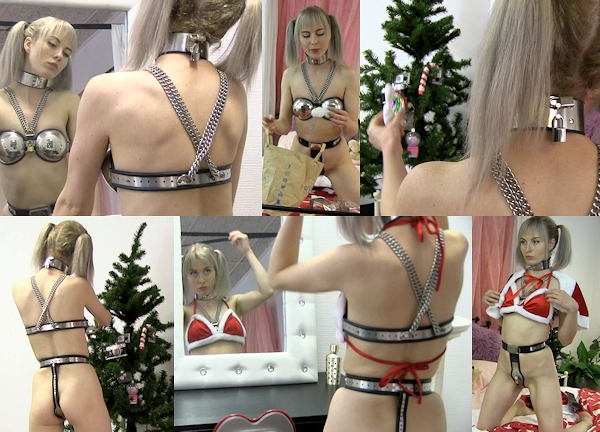 Polina is back! That was fast! She did not go back to Russia after her Casting… nope, she went into Amsterdam for a few days and had a great time (you can guess why). Then she messaged me if she could come back and get locked into chastity again because she needed a place to stay.
Of course, I couldn't make her homeless just before Christmas, so I welcomed her back. Polina is a strange but very fun girl. She does not appear to care where she stays or what people think of her. Her life is just one big random adventure, she goes from one thing to the next, and now she is back at ChastityBabes.com. I barely had time to adjust her belt (made it 1 hole tighter in the crotch area, going from tight to supertight), locked her bra on again, and locked her in a new collar (new double padlock design!). Polina was super happy to be back!
She had been Christmas shopping in Amsterdam and she had a big bag of goodies. She was in her own world, using her newly bought decorations to cheer up the studio bedroom. I got her a cute Santa girl outfit too, and she tried it on over her chastity gear. Am I mistaken or did Polina get waaay cuter in just 1 week? Maybe it's the pig tails. Anyway, I am super glad she came back. Offering a place to stay in Holland to girls has been very useful to get more updates for this website. If you are stuck in Holland and need a place to stay, remember you can always contact me! You will just have to wear chastity gear, but if you are cheerful and optimistic like Polina, it will be the best deal you ever made!
Happy Holidays everyone! I hope you will give / receive a chastity belt this year (if so, send me pics), because you know my motto: all girls should be in chastity forever!!