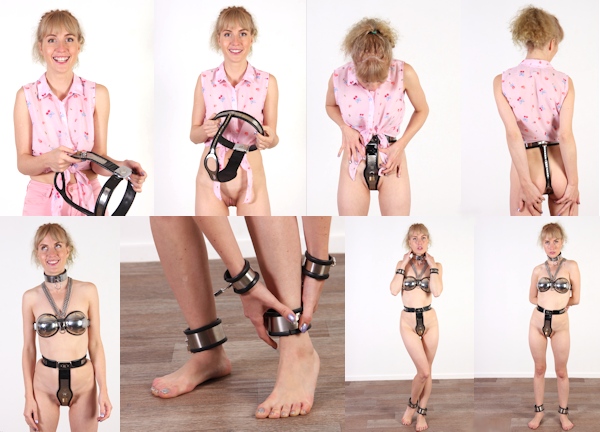 Always nice to have new girls in chastity, especially when they are VERY excited about the gear. Polina was incredibly excited about her chastity belt and bra, even so much that she did not want to take it off anymore. There was a bit of a language barrier with this Russian girl, but her excitement is not hard to read.
Polina is tiny, so the chastity bra looks big on her! Combined with a super tight belt, she was almost more metal than skin, but she did not seem to mind at all. This was the first time ever she had seen chastity stuff and she was amazed! Polina loved it so much she started taking lots of selfies because 'people back home are not going to believe this'. Her enthusiasm got me excited too! Of course, I asked her about a Chastity Deal and Polina already started to think with me about clothes to cover her outfit. The ankle cuffs meant that she could not wear her pink jeans again, but she ran off to get a skirt to show me she was ready for a Chastity Deal.
I don't think I have ever seen a girl so enthusiastic about being in chastity. Maybe she doesn't understand what the gear is really for? Polina might just see it as a cool outfit? Her huge smile works infectious though, and if she wants to come back and spend a lot more time locked in this gear, I am not going to stop her. What a girl! I love belting girls from all over the world, even if we don't understand each other perfectly all the time. Chastity is for everyone, and will hopefully bring the world closer together in these tense times!