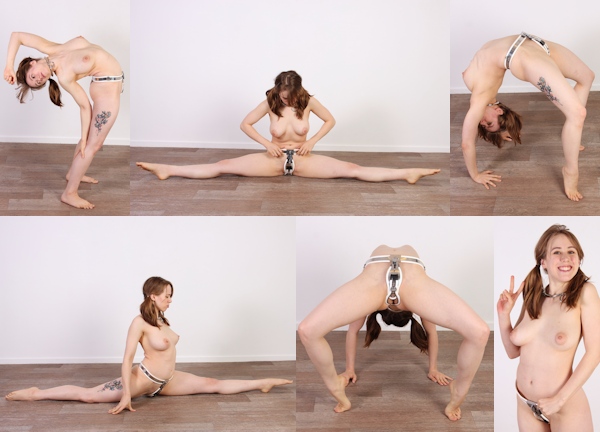 And just when you think it's rare to get girls from the USA over here, there's another email from a girl who wishes to try a chastity belt. Cute girl Bree is a submissive with a huge curiosity about bondage and chastity. But there's more! She is a contortionist! And you probably already know what I was thinking! We need her to prove a point (again)!
As some of you have reported, it's been hard to introduce chastity belts in your relationships, with girlfriends and wives making up excuses why they can't wear a belt 24/7. Of course, girls need cleaning breaks, but they can be short and supervised. There is no other reason to take off a belt, as I have tried to show on this website many times before. Horse riding, running, tennis, fitness, swimming, all sports can be done in a chastity belt. It's just a matter of getting used to the belt. And willpower. From both the wearer and the keyholder.
Some sports will require a hip style belt, to allow easier bending at the waist. Especially when you are as flexible as Bree. I belted her in a hip style My-Steel and asked her to do her normal routines, just go through all of her flexible positions. You will see there is no position she can not do (and she can do a lot!). She is even happy and cheerful in her belt, her very first time ever! Bree got used to her belt so fast, it was a shame she was here for such a short visit. When she comes back, she definitely will spend a lot more time in the belt. And she has already promised me to do a proper Chastity Deal! With girls like this helping my cause ('all girls need to be in chastity all of the time'), you will definitely be able to show your wife or girlfriend their excuses are not relevant.
Enjoy this wonderful and rare update! Bree is such a fascinating girl to watch!