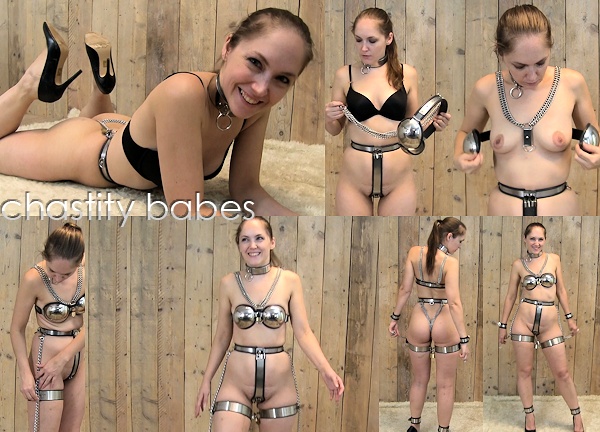 Of course! Couldn't allow Rachel Adams to leave without trying on FULL chastity gear. When she comes back for a real Chastity Deal, I have decided she will wear all of this all the time. Because she is a tough girl and because she looks awesome with lots of metal locked onto her.
Rachel was very interested to learn about all the gear, taking her time to study the bra and its locking system, then adding thigh bands to her belt with chains and finally locking her legs together with a big padlock. Walking was no problem, even though everything was locked on tight. Of course, full chastity gear can be quite noisy, but I don't think Rachel will have a problem walking around in this gear in public (with a dress over it). People will wonder what the noise is, but I think Rachel will definitely enjoy the excitement of being a Chastity Babe in public!
After adding wrists cuffs and ankle cuffs, we counted a total of at least 12 padlocks that would need to be unlocked to get her out of all this. She commented she would definitely not get out of this gear on her own. A lot of (different) keys were in my back pocket, securing one of the most famous bondage babes from the USA. It was very exciting indeed! I am looking forward to having this girl over again soon, her calm and kinky attitude will make sure it will be a great Chastity Deal with lots of extra bondage challenges! Rachel even had a number of requests for her Deal, like sleeping in a locked cage, a locking gag, sleeping spread eagled in full chastity, and really short chains between her wrist and ankle cuffs. You have to love this girl!
By the way, this is update 750!! I never would have thought I would do so many when I first started this project! A big thanks to everyone supporting this website! If you are not a member, please consider joining for a very low fee to download 750 updates (gigabytes of videos and pictures)!! Thank you!