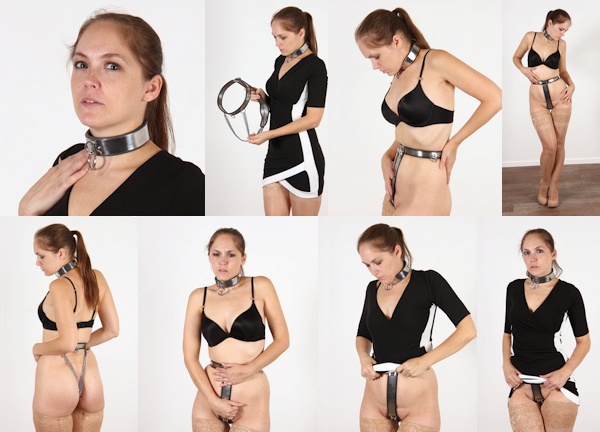 Not often can I get bondage models from the USA in a chastity belt over here in Europe. But when they are over and they ASK me if they can come over to get locked in a chastity belt, wow, who am I to say no!
The famous (and very tough) Rachel Adams is a bondage star who has been very busy, appearing on many websites. But a real metal chastity belt… she never tried one. So she contacted me to get locked and I was very happy to help her with that request. We did not have a lot of time for a Chastity Deal, but a good long Casting was definitely possible. She would spend the day in a belt, because I told her it was necessary to get used to it. In reality, it was just necessary because I loved holding the keys to this American model's belt.
Rachel was locked in a collar too of course, and her belt was a chain style model, double padlocked, and very tight. She was very impressed by how tight it felt, and she couldn't really move the belt at all. She also liked the way it made her legs and butt look! Rachel tried her black and white dress over the belt, and was very surprised to see how well the belt could be hidden. We talked about the possibility of a Chastity Deal (3 days), and she said she would definitely take that challenge the next time she is in Europe!
But Rachel did not know I wasn't finished with her yet. The belt and collar (and allowing her to put her dress back on) were just to get her to agree to a Chastity Deal. When she was relaxing, I came in with the rest of the gear that would be part of a Deal. FULL gear: I brought her a chastity bra, thigh bands, wrist, and ankle cuffs. Stay tuned to see if Rachel tried all this, and if she was still confident about doing a Chastity Deal after seeing what she really would be locked into!