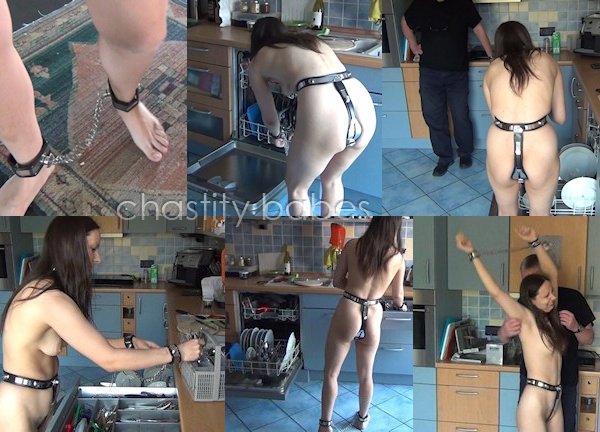 Aiyana is moved down to the kitchen for some more slave labor. She is released from her long ankle chain, but Master Merlin now applies the official NeoSteel double chains between her ankles, and another one between her wrist cuffs. That's almost a complete NeoSteel outfit: chastity belt, collar, ankle cuffs, wrist cuffs, connector chains! Lovely to see a set like this on this site!
And there's plenty to see, as Aiyana gets tasked with clearing out the dishwasher. That involves a lot of bending over, and walking around to various drawers and cupboards. Merlin tries to distract her by spanking her with a wooden spoon and tickling her armpits and sides. Aiyana does not live here, so she doesn't know where everything should go. Master Merlin just teases her with her ignorance, and tells her to hurry up.
Aiyana is such a good chastity slave! It really made me want to get my own slave again, I miss Davon who had to go back to the Philippines… but don't worry, I have received a new application from a very submissive girl who wants to spend as much time in chastity as she can get. So you will probably see her on this website soon!
Meanwhile, enjoy this fun video! It shows that Chastity Deals don't have to be very serious, there is lots of fun to be had! Aiyana is going to have a great week, and so is Master Merlin! If you want to come over to Holland and do your own Chastity Deal (with or without being filmed), check out this page. It has a lot of information, but I'm sure you'll have questions after reading it. Feel free to email me at webmaster@chastitybabes.com!