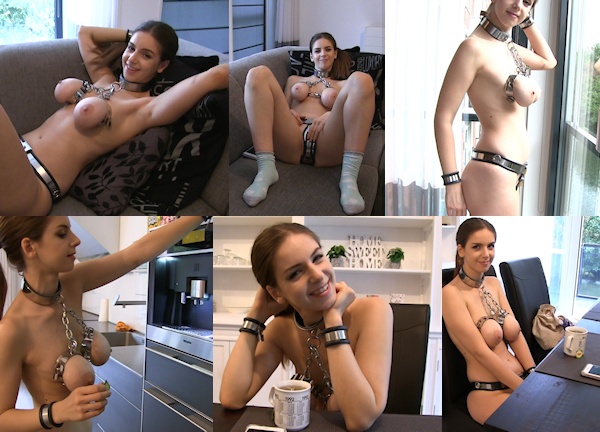 The next morning, Stella was already getting a lot more desperate. She tried begging for the keys a few times, and she hardly slept in her new boob cuffs. I actually thought they were too hard to sleep in, the metal digs in and it doesn't have any padding, unlike her chastity belt, collar, and wrist cuffs.
But Stella tried it anyway, and she woke up a bit grumpy. But every time I asked her about the boob cuffs, she seemed to think the chastity belt was much worse. She just wanted a little break to touch herself. And I wouldn't give her that break, not even when she put on her cutest pouting face. Stella knew that, it is a game we play. She tries to convince me she needs a tiny break, and I tease her a bit because she is so horny. But we both know she would immediately start touching herself if I remove the belt, and that's not part of the Chastity Deal!
Seeing Stella around the house in her boob cuffs is so much fun, she just lounges on the sofa, playing with her phone, then she tries standing in front of the windows where everyone can see her (fortunately the neighbors didn't see that!), and she walks downstairs to make herself a cup of tea. Yes, a Chastity Deal is a waiting game, but in Stella's case it is a huge battle. In her daily life she orgasms about 3-5 times a day. That's what makes this Deal so hard for her. A few more nights and she will be REALLY grumpy.
Maybe it's time to add a plug (or two), to make things even worse for her? What do you think? I should make things even more frustrating, which will be a lot of fun to watch. I just love teasing Stella, I just hope she doesn't explode!