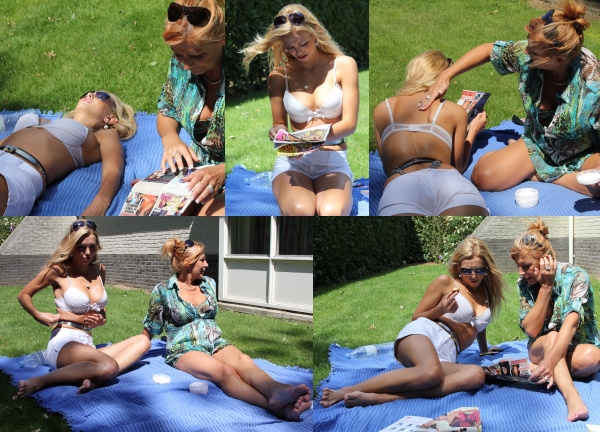 Dominique and her mother Francis take a little break to enjoy the last of the summer sun. They both love to tan, but Dominique got belted this summer so tanning is a little different now. She will not have a bikini line tan this summer, but a white shape on her skin where the chastity belt is. This means Dominique's chastity belt will be visible even when she would take it off!! Another reason for her to stay locked!
Many of you have expressed concerns about Francis. Some of you even think a mother should not do this to her daughter. Maybe you are right, but Francis is doing this out of love for her daughter, and the whole deal is completely consensual. Dominique was not completely sure, but now she is really enjoying life in her belt, and she says she would even miss it if she were to take it off now. She already misses the 'belt feeling' during her bathroom and shower breaks, which are supervised by Francis of course.
Francis and Dominique are on a blanket enjoying the sun. Dominique is reading and eating some cookies, Francis is smoking and even putting sun lotion on her daughter (she really is a caring mother). Czech members will be able to listen to Dominique and Francis chatting, maybe someone would like to translate some of it and post it below!