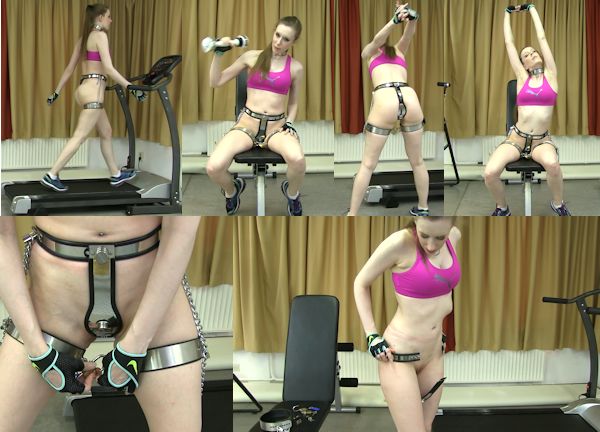 All good things must come to an end, and sadly Cobie had to fly back to her home country after 5 weeks in Europe. I think we will all miss her, as she is one of the world's genuine Chastity Babes!
Cobie was doing her fitness when I came in with all the keys needed to unlock her many locks: 1 for her belt, 1 for her collar, and 5 for her thigh bands. Cobie had mixed feelings about her unbolting: she was happy she would be out of the tight belt (the NeoSteel is a great fit but not perfect), but she was also very sad. Sad to be unbelted and sad to go home after so much fun in Europe.
Her skin needed some rest though, it was getting pretty hard for her to wear the belt. Even though she got a few breaks during her Deal, she still needs to get a custom made belt to be able to be in permanent chastity. It is one of her biggest wishes to have a perfect belt, and the good news is… that may happen in the future! We can't say too much about it yet, but fingers crossed! I would really love to see her in permanent chastity!
Cobie will be back, I'm sure. There are many people in Europe who want to see her again, and a new Chastity Deal with her next year will be lots of fun. Let's hope we have the perfect gear for her then so she can be even more crazy, happy, and outgoing! Bye Cobie!! See you again soon!