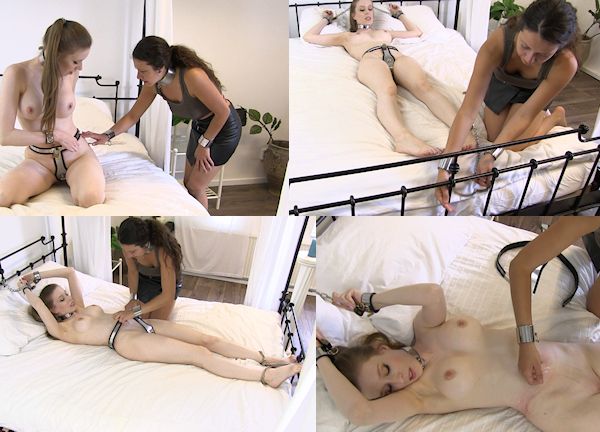 Cobie had been in her belt for about two weeks when the first problems arose. The pressure on her hip bones was building up, and she thought it was because the belt had bent slightly out of shape, causing it to be smaller in width and bigger in front and in the back. It looked like she was serious about this issue, but I have learned not to trust Cobie, as she will (sometimes) just say anything to be able to touch herself.
So I was very hesitant about giving her a break. Eventually, I had to call in Anahi to help me. She chained Cobie's hands and feet to the bed in a stretched out position. That way she could safely take off the belt without risking any naughty self touching. Cobie was clearly upset about this method: she couldn't believe I didn't trust her. But her reaction to the restraints told me that she HAD been planning to touch herself after the belt was removed. So I think I was right.
Anyway, with the belt off for a moment, it was the perfect time to give Cobie's skin a little rest. She was getting very red under the belt (which is normal, don't worry), and Anahi applied some lotion to take care of the skin. It's very important to moisturize the skin when you are in a belt! Especially in these hot days, when sweat builds up under the belt. Cobie wriggled a little on the bed, but I think she appreciated the little break. Even though it wasn't what she had imagined!