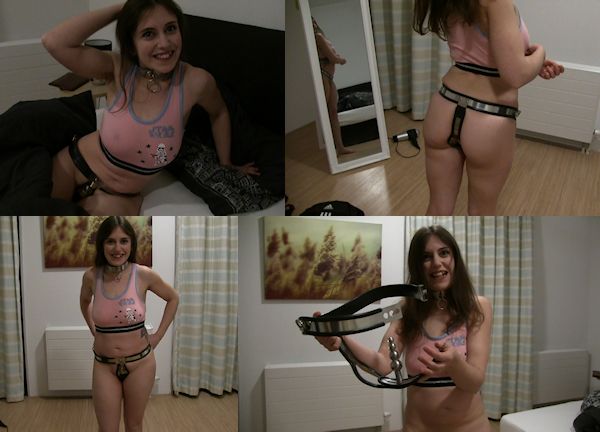 The second night I did not even stay at the Amsterdam house, I just left LittleRedGirl there as she seemed (more than) fine with her tight belt and the big plug inside her. I had given her a short hygiene break (supervised) and then she slipped into her starwars pyjama top to go to sleep.
I was a little bit worried during the night, as I did not hear from her, and I was about half an hour away from her with the keys to her belt and collar. And I got even more worried in the morning, as I tried to message her, but I did not get a reply. So I drove to Amsterdam in the early morning to go check on her (and bring her to the airport) and I found her sleeping. LittleRedGirl was so relaxed, even with the big plug inside her, she could just sleep forever with this belt. Even the noisy collar did not bother her.
When I woke her up, she was as bubbly and happy as ever, even though she was a bit sleepy-eyed. She said the whole Chastity Deal had gone by so fast and she had an absolutely great time doing it. She also said it would be weird to take off the belt, as her body had adjusted to the plug being inside her, filling her up. It would be strange not to have anything inside her. I told her she already made it past the contracted time so she could unlock herself.
As the plug slid out, LittleRedGirl was still amazed by how big it actually was. She is a tiny girl and the 4-ball plug has a wide base and it's quite long. She admitted that it had made her quite excited, and she had been trying to touch herself, but the belt was too perfect. The hip-style My-Steel was tight enough to prevent any touching, which was frustrating, but as the entire Holland trip (she had never been to Holland) and all the bondage shooting we had been doing had worn her out, she slept very well and she did not get too much time to be frustrated.
Well done, LittleRedGirl! She definitely deserves a much harder Deal next time, I'm sure you agree. If you want to chat to LittleRedGirl about this weekend Deal, make sure to come to BoundCon in Munich in May, she will be there and she would love to answer any and all questions about her love for chastity!