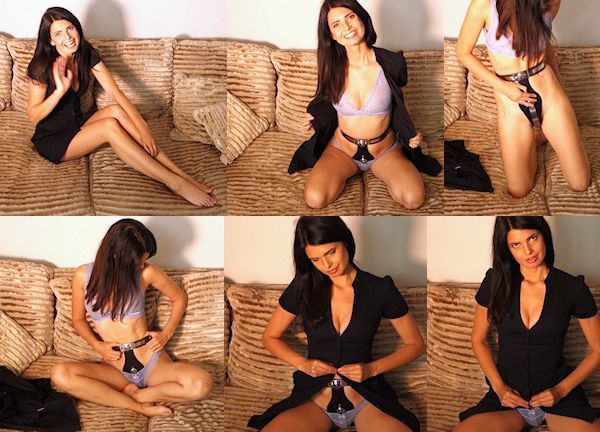 Yes! It really happened, I sent gorgeous Scottish girl Yasmine home in the brand new Access Denied belt without the key! She had to take a complicated train and tram journey and it took her 2 hours to get home, but she made it safely (Yasmine actually lives in the Netherlands). We were in contact through a messenger app, so she could tell me how she was doing. Also, she could call me of course if there was an emergency.
After the belting, she felt very confident, so I think Yasmine was a very good choice for this Deal. She has done Deals before, and she is not an anxious / panicky person. It wasn't a hard Deal either. After all, she would come back the next day already to get unbelted. But it's still exciting to hold a key to a beautiful girl's belt for 24 hours!
Within hours, I already received her first video report. Still in her purple underwear, Yasmine set up a camera at home to do her first self-interview. She talks about her train journey, and what she expects from the next 24 hours. Sleeping and toilet use are her main concerns. But she can technically go without sleep or (number 2) toilet use for 24 hours. So it's doable. She was a little excited though, because even if she would call me in an emergency, it would still take me at least an hour to get to her.
It's very funny how Yasmine thinks that wearing a pair of panties makes her chastity belt more 'decent'. She is such a stunning beauty in her belt, I just let her do whatever she wanted to do, as long as I got some video reports. The Access Denied belt looks great on her, very good size on her tiny waist, and the huge shield is a reminder for her that she can't touch herself. Not in bed, not in the shower, she will have to wait until the next day and take the complicated tram-train journey back to my studio to get unlocked! So far she's doing great!