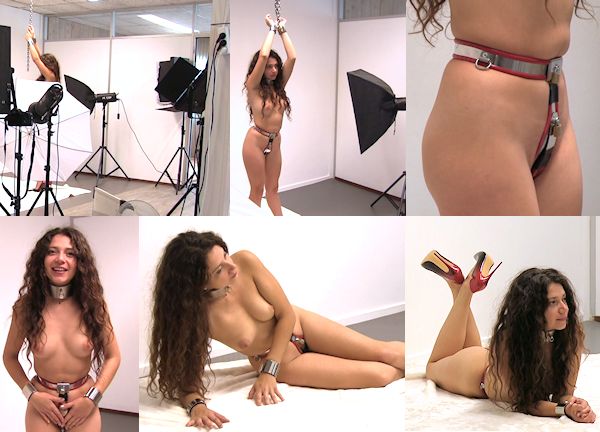 Inspired by the recent appearances of my studio assistant Anahí, one of you actually came over and did a fan shoot with her! There used to be a lot of fan shoots going on in the studio, especially during the longer (Donna) Chastity Deals, but since my assistant is always wearing her red MySteel in the studio, she can also be a permanently available model for these shoots! Much easier to arrange, and she is a gorgeous model!
There are a few rules when booking a fan shoot with Anahí: she must remain locked in her MySteel at all times, which is not a problem usually. I hold the keys and she is used to that. Some photographers may be tempted to ask her to shoot nude, but I can't allow that. She must remain belted. Also, she usually wears her personal locked wrist cuffs and collar. I hold those keys as well. The last rule is just common sense and respect towards the model: no touching or inappropriate behavior (even verbally!).
Fortunately, this fan was an absolutely great and respectful guy. Anahí had a great time posing for him, his lighting ideas and posing suggestions were spot on. I filmed some bits behind the scenes (without showing the fan of course, you will never be filmed without permission). It was a very professional shoot and the results were amazing!
But you don't have to be a professional photographer to do a fan shoot. In fact, you don't have to be a photographer at all! There have been people in the studio just for a coffee with a Chastity Babe. Or to take them out shopping. Of course, it's nice to take some snapshots to remember the day, with your phone or I can take them for you so you can pose with your favorite Chastity Babe. We have had fan shoots with Jenni, Dominique, Donna, Anahí, Sophie, Natalia Forrest, and many more. So if you are interested to book your own fan shoot or just spend some time with a Chastity Babe, just write me at webmaster@chastitybabes.com and we will make it happen!