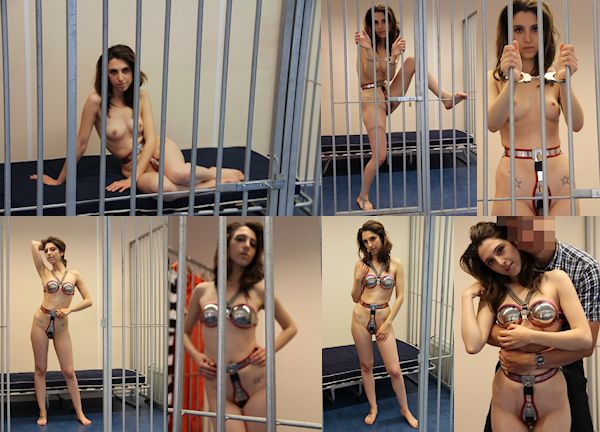 With the last 8 (!) updates being about Amarantha LaBlanche, you'd almost forget there's a cute girl from Italy locked in her very own red My-Steel chastity belt, living her quiet life in Amsterdam.
Almost! Because many of you have been asking about her, and she is very happy to hear that! I am working on giving Donna her own blog because it is getting so busy on this website that we hardly have time to check in with her, and that's not good, because she is definitely the number 1 Chastity Babe of all times!
Her status? It is very simple: Donna is still locked. She hasn't asked for the keys in weeks. She gets a cleaning and shaving break every Sunday, it is only 15 minutes, and it is supervised by me. Frankly, I don't have to supervise it anymore, Donna is not thinking about pleasing herself at all! She has reported being incredibly focussed on her hobbies (which include shopping, photography, and modelling) and her mind has never been more clear. She even said she would fear an eventual unbelting, since it would leave her more insecure, vulnerable, and 'weak'. She would miss her belt! She is very determined to make it to the end of December, and even beyond! The one thing she fears most is the cold Dutch winter, she hates cold!
While all of this may sound like I brainwashed Donna, please be assured that she is still doing this out of her own free will. She signed an open-ended contract and she can end it any day, any time. She will have to go back to Italy though, because she won't have any money or a place to stay anymore. Unless a Dutch fan wants to offer her a house, which will probably not happen, since you won't be a fan anymore if she is not wearing the belt.
Speaking of fans: Donna is making a little extra money doing modelling work. She can not do much of course, since she is locked in a belt, and shoots generally are limited to fans of chastity belts. But they (you) have been coming from all over Europe to shoot with her! Or just to meet her… In this update you will be able to take a look behind the scenes of a fan photo shoot, and you can also view the pictures that were made by this fan. He is not a professional photographer, but he enjoyed meeting Donna and shooting her in my 'prison cell' setting. He was kind enough to let me show you his pictures! He asked for a few extras, like Donna's pink bra (which was not fitted tightly but only for shooting) and a pair of handcuffs, which was great!
If you want to have your own shoot with Donna, please let me know and we'll set it up!
Pictures shot by a fan photographer, used with permission, quality may vary.