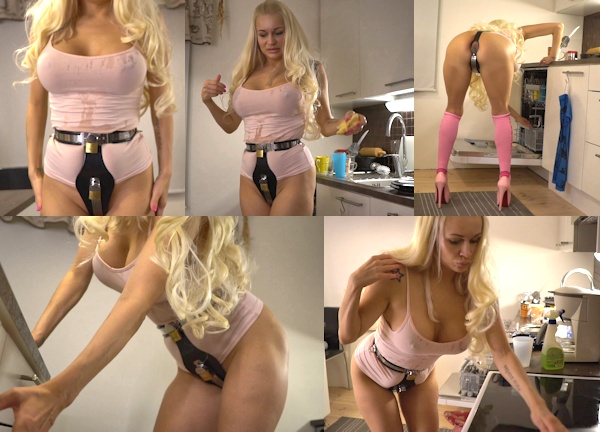 Even Dirty Mary has to clean sometimes! She is a submissive woman, in a chastity belt, so doing tasks for her Master may get her a little time out of the belt. Then again, maybe not. She just has to be a good girl, and Mary certainly does the best she can.
Perfect housewives wear chastity belts, of course. It keeps them focused on their tasks and it keeps their motivation up, because they will always be thinking about their reward (an orgasm, or at least some time out of the belt). Mary tries her best to keep her house spotless, doing the dishes, wiping every surface, and dusting all the rooms. She is completely used to her tight Access Denied belt, so she can bend over and move around without any problems during cleaning.
Of course, her Master (and now also our members) can enjoy great views of Mary while she is cleaning, especially when she is bending over in her super high heels, because this belt is custom made for her and the anal opening lines up so perfectly! Mary even gets her shirt wet, which makes this video even more exciting. I'm very happy that Mary wants to be a part of the ChastityBabes.com team, and I hope she will send us many more updates from her belted life!