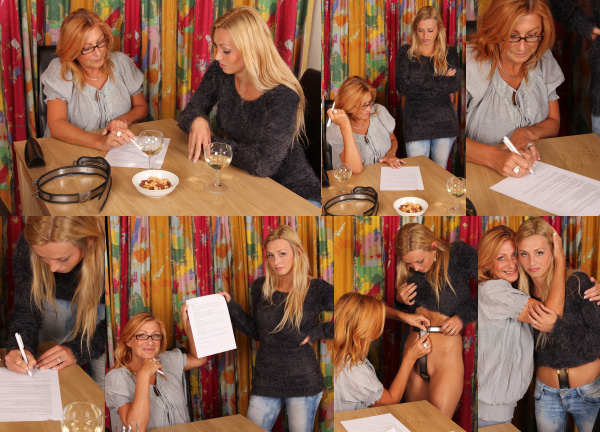 A few months ago, we were contacted by 46-year old Francis. She found our website looking for chastity information. She wrote us that she and her daughter Dominique had an agreement about no sex before marriage, and that she used to padlock Dominique's jeans before her daughter went out in the evenings. Francis was very interested in our chastity belts.
And when Francis emailed a picture of Dominique, we were suddenly very interested in their situation! This 22-year old girl is gorgeous! We offered Francis a FREE chastity belt if she would use it on her daughter, and we could document it (pictures and video) from time to time. This strict mom took it a step further, she said she would lock it on Dominique for 1 whole year!
It is too complicated to explain all the rules and agreements here, but the end result is that we went to their Czech house and witnessed the signing of the 1 year chastity contract. A very reluctant Dominique signs the contract after a lengthy and convincing explanation from her mother. The discussion is all in Czech, maybe a Czech member can transscribe the video text in English for other members? The contract was provided by us (with a few changes by Francis) and the signed copy is also included in the picture zip, so you can read all conditions of this agreement.
We are very excited to have a real mother-daughter chastity belt situation on our website, and we hope you are too. Let's hope Dominique will not give up too soon, but we are sure Francis will take very good care of her, she is a strict but loving mom! They will probably be reading your comments with great anticipation, so feel free to ask them any questions.
Czech dialogue. English subtitles are included in the member download!