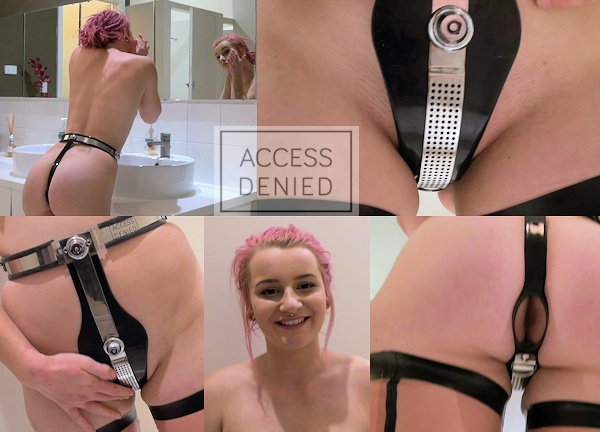 As most of you probably already know, the legendary Access Denied chastity belts are back! The iconic belts were only produced for a very short time between 1997 and 2001, till the original designer passed away.
But a new company (ChastityCo) is now producing this belt again, with permission of the designer's family, trying to keep the belts true to the original designs. A few changes were made, like the locking system, but all features and the look has been preserved. You probably remember this look from the famous Erik Kroll images! The broad front shield is something that I have always liked, because it is a lot more secure! The belt lies very flat against the belly, leaving no room for prying fingers.
Of course, I need to get a few of those belts to add to my collection. I'm pleased to announce that I will soon receive some of these iconic belts and I will be locking girls into them very soon! I will give you an honest review of the belts, but so far I like what I see.
To show you what the belts look like and how they fit, I have received a promo video from ChastityCo, featuring Australian model Carmen Isaak! It's great to see the belts in motion, so you can study how well Carmen can move and what the belt looks like on her. The high security radial locks look great and ultra secure, the belts look shiny and of a nice quality steel, while still comfortable. I can't wait to receive my own Access Denied belts and start testing them. Let's hope they are suitable for Chastity Deals, because I would love to see a girl in these belts for a long time, unable to touch herself!
Want to get your own Access Denied belt? They have female AND male belts, with many accessories! Check out the ChastityCo website here!