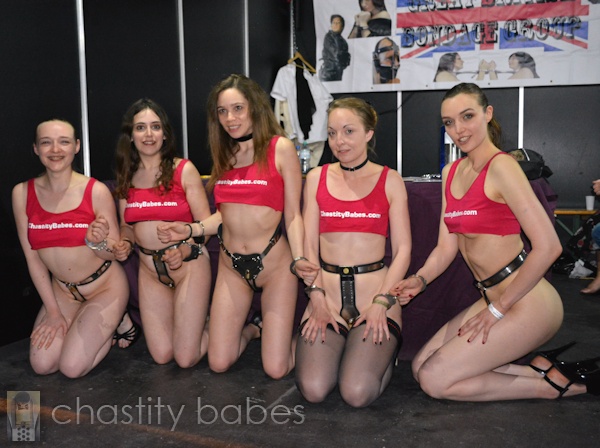 Of course, we had to do the promo stunt on Saturday too, it's the busiest day of the convention! The goal was simple: get as many pictures taken as you can and hand out the ChastityBabes.com/MetalBondage.com flyers! The girls did an excellent job. It was a stunning sight: the towering DutchDame with her great body, the cute and giggly LittleRedGirl, the bubbly smiles of Kerry, the endless long hair of Pling, and the perfect body of Lizanne locked in her Carrara. By far the best models on the convention, and they were in MY promo team!
No collars on this day, just girls in chastity belts, running around the convention. Well, they did not run far, because they were stopped every two seconds for a picture or a selfie. It was crazy, very busy and a very good vibe. When the girls finally returned to the booth of the British Bondage crew, an evil guy popped up and used 4 pairs of handcuffs to chain the girls together. This made posing a lot more interesting (a huge crowd had gathered), especially when the girls had to turn around.
If you have never been to BoundCon, don't hesitate to do so next year, it is the best fun you can have. Plus you will get to see the Chastity Babes live! You can take pictures of them, take pictures with them, and ask them all about their belts (especially Pling, LittleRedGirl, and Lizanne, who own their own belts). But who knows who will be in the team next year, it's always a surprise! I can guarantuee they will be beautiful and they will be locked in chastity belts! Don't miss it next year!