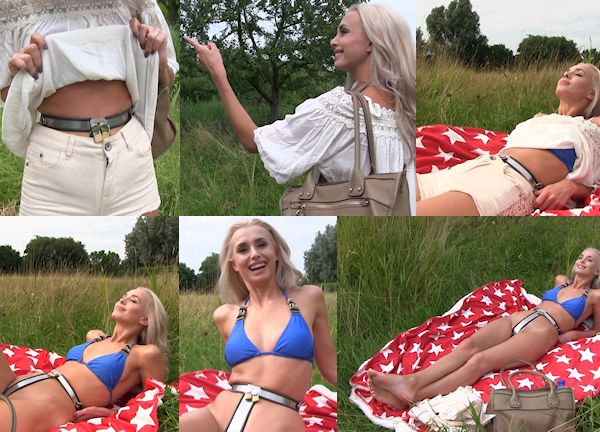 Our top chastity babe Dominique still stays in touch after all those years. She was belted by her mother when this website first started, but we are way past that phase (sadly). I will have to find a new mother-daughter pair to shoot soon! But the gorgeous Dominique still loves to come and visit a few times a year, and this time she drove all the way to Holland from Czech Republic!
Even though she knows she will be belted as soon as she arrives, she likes to spend a few days with me. This also goes for Jenni and Melissa. I don't know why, but coincidentally those are all Czech girls. Maybe they are a little less difficult about being belted? They certainly don't seem to mind much. I always tell them this is the rule and they have never questioned it.
A beautiful day with Dominique in the park, talking to her about all kinds of things and looking at the animals we encounter. She even took off her clothes to get a sun tan in the middle of the field. There were other people around that day (sunny days are rare in Holland), but I don't think Dominique really cares about her belt being seen. She thinks of it as her bikini bottom, nothing strange about that! Except that it's metal and double padlocked.
I just love having Dominique around. I hear she is single again by the way ;) Now isn't that interesting! Enjoy this beautiful update of Dominique, she is one of the best!