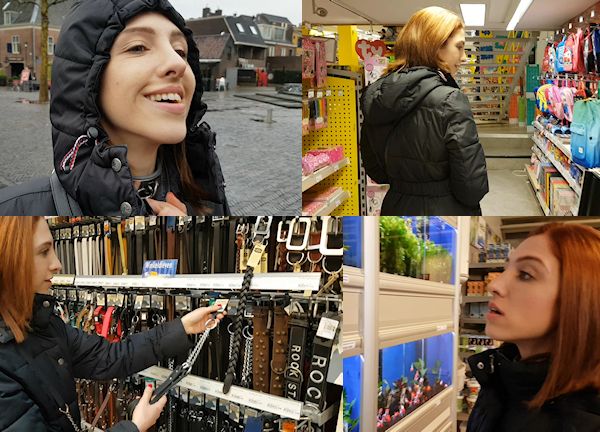 Even though Donna is already home and unbelted, I thought I would post one more update of her, because we had so much fun during her Chastity Deal! We went shopping of course, and Donna was quite lucky all the time, because the weather was very bad. So she could wear her big coat and no one could see her collar.
But I told her to open her coat a few times, and she kept forgetting to zip it back up again, so she was walking around with her collar clearly visible inside many of the stores. I don't think anyone would mind to see it, or associate it with a chastity belt, because collars are even in fashion at the moment! Many girls are wearing them (just not locked metal ones).
Me and Donna went to a pet store and garden center, and we found the collar section right away! Donna wanted a pink one, but it wasn't a locking one, so I told her she couldn't have it. She would have to keep wearing the metal one during the Deal. We saw lots of interesting things, like fish and parrots, and there were many people around.
Donna was already completely used to the Carrara belt so she could walk around without limitations. We went into many shops that day, including a toy shop where Donna found some interesting things. It seems she still loves pink! Maybe next year I should get her a pink belt again!
I'm sad that she's gone, but I have some very promising applications from new girls for a Chastity Deal, and one of them will start soon! Can't wait to see how that goes!