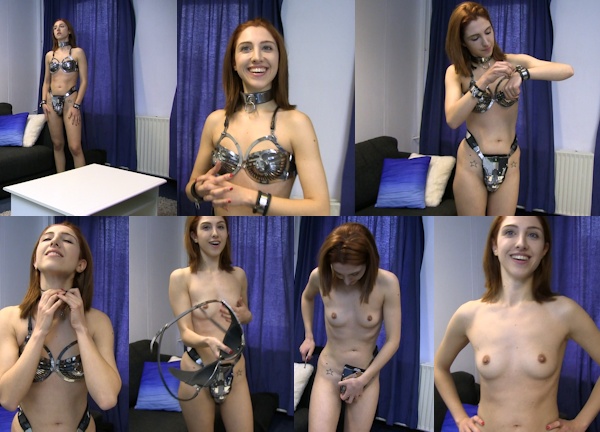 Donna made it! Of course, she is the most patient and experienced Chastity Babe and she thinks this is a part time job (go to Holland once a year to make some cash). She can deal with anything I throw at her. Extra restraints, more gear locked onto her tiny body, Challenges, Donna is so used to it, she even expects those things during her Chastity Deal.
It's time to let her go now. The incredible weight of the Carrara belt she carried around for 30 days will cause Donna to lose at least 2 kilos today (including the bra and collar and cuffs). I took her to the studio where she impatiently waited to be unlocked. She didn't know that I left the keys in the room, and she did not find them. She was a little shocked to find out she could have unlocked herself hours ago. Just a little last minute fun, playing with her mind.
This chastity gear is the best Donna has ever worn. It may not be everyone's favorite look, but the padding is incredible for a long term Deal. She barely had any marks! Carrara stuff has some disadvantages (like toilet use) but the comfort level is the best of all the brands. Donna could easily do a longer Deal in this gear. But she has to go home, tickets have already been booked and she will leave us. I asked her if she wanted to come back, but as always she did not answer that question. It is too soon to ask, minutes after unlocking someone from a 30-day Deal!
I'm very proud of Donna, and she was very nice to be with this year. She went everywhere with me (also because of the toilet breaks), and she was very patient, hungry, and happy. This actually went a lot better than the last Chastity Deal, because of the comfortable gear and the fact that she was just a lot more positive. There is a lot more Donna footage of course, but I will post some of it later. Let's give other girls a chance now in the upcoming updates, there are a lot of new girls waiting to do a Casting!