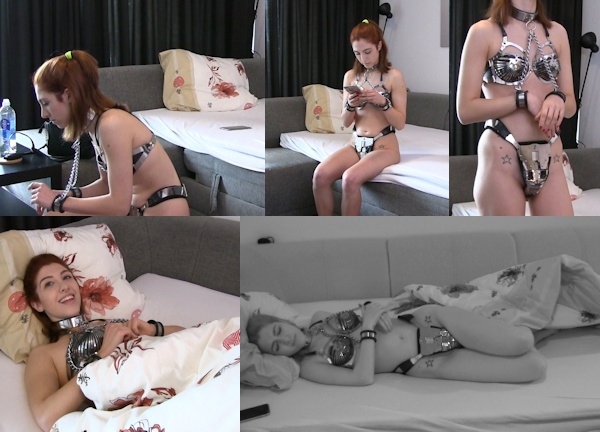 We are almost at the end of Donna's Chastity Deal. There is no possibility of extending because we already bought her plane tickets beforehand. She to fly back this week. Oh well, it was very nice having her over, and she has been a real trooper in her Carrara gear. We have done so much together this month! It really is a lot of video material! I will release some of it later, because it was quite fun to go to public places with Donna.
But at the moment, she is doing the final Challenge of her Chastity Deal, which means her hands will be chained to her collar for 24 hours! Donna expected something like this already, and I am sure you did too. The chains are quite short, so Donna can not touch herself even if she was not wearing a chastity belt, but of course the heavy Carrara belt stays on. Some of you have suggested that a collar and cuffs Challenge with a short chain is technically a Chastity Deal too, and Donna would never be able to be naughty, but I just love seeing her in the belt, securely locked.
Donna is currently doing very well in her predicament. She can eat and drink, and use her phone, which are the probably the things she does the most during the day. She did even sleep like this (with some protesting), which was not even that hard compared to getting used to sleeping in the bra. Donna did not really sleep much because every little movement caused a rattling noise from the chains, but she can sleep when she gets back to Italy. At the moment, it is just important that she finishes all her Challenges. She is looking forward to her unbelting (I'm not) and especially the cash prize that she managed to earn with ease this time. It was so great to have her back, I hope she will decide to come back again soon!