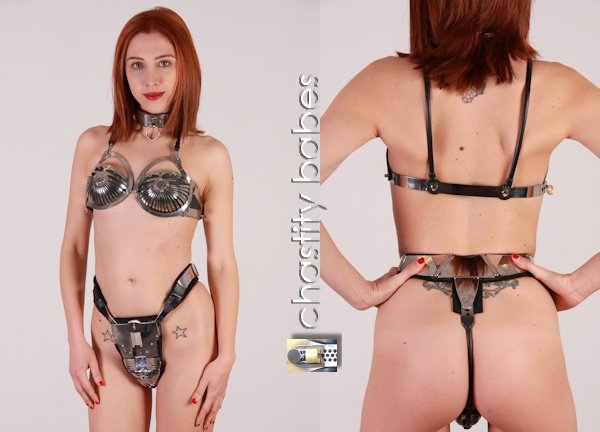 Donna comes with me to the studio very often, she feels at home there (as well as in the apartment). It is easier to come with me, because she needs me to take a toilet break. So while I am doing my work, she often hangs around. Donna even shot some pictures in my studio, as you know she is very interested in photography.
While she was having lunch, we talked about her chastity gear. She has had some problems sleeping, but she got used to it rather quickly. The belt has so much padding it is super comfortable, but the bra doesn't have all this padding. So it is uncomfortable on the ribs in some positions. Donna will manage, don't worry, she has done more uncomfortable Deals in the past! I also showed her the box of gear that Carrara sent me to do this Deal with Donna. There are a lot more belts, in different locking styles, and a choice of bras with larger cup sizes and bigger back straps. But all of this is not for Donna, because I just took the tiniest belt and bra straight away and that was her size. The rest of the gear is all too big for her.
After Donna's sandwich (only one, she says she can't eat more in this belt), we decided to have another little bonus picture shoot for you, to show her bra in more detail. It is really a work of art. And Donna looks amazing in this bra and belt combination. Enjoy the pictures and video!