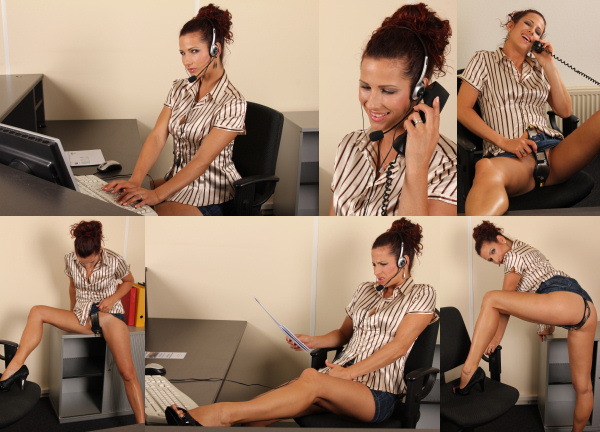 After some shoots in our studio, Yvette finally agrees to do a daily life shoot: it turns out she is a receptionist in real life (yes, she told us she was a business woman). Anyway, imagine this front desk at your office job, you pass this beautiful redhead every day, and she even gives you a smile, but you would never have guessed she was wearing a chastity belt!
Dressed in a blouse and denim mini skirt, Yvette starts doing her job, answering the phone and opening the mail. Pretty boring, until her belt starts to bother her. It is a little uncomfortable to sit down on the secondary shield's padlock, so Yvette shifts in her chair to find an easy position.
Her skirt creeps up to reveal the vaginal shield, and when she bends over to pick up a binder, her anal hole is clearly visible! Yvette smiles knowingly: if her co-workers were to see this, they would really be turned on! Yvette's killer legs and heels give her the right posture for this belt, her pelvis is tilted so the secondary shield's padlock is perfectly situated between her legs.
This receptionist is hot! Not just because of her looks, but also because she can not have any satisfaction, it makes her have naughty thoughts, as you can see in the pictures and video!