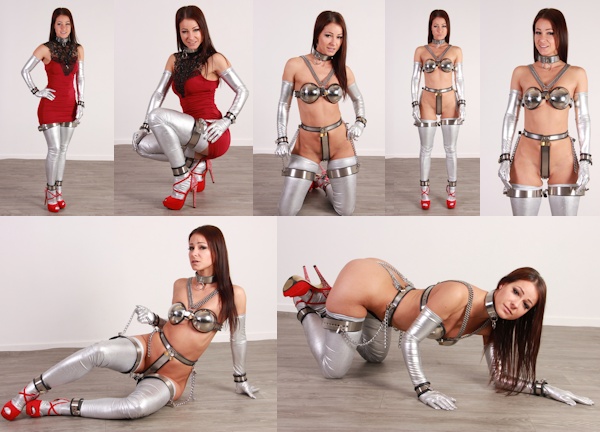 Another member request! Actually, a combined request of some members: they wanted to see a model pose in full chastity, long gloves, and long stockings. Great idea! I love chastity fashion!
Melissa (or as she is known by most men on this planet: Melisa Mendini) is a super hot girl with a perfect ass, and a great little body. She has been locked in chastity countless of times, and she knows she always will be when she comes to Holland. Melissa is the perfect model for this request.
I found some metallic long gloves and stockings, so it was time to transform Melisa Mendini into Metal Melissa by adding a LOT of locking metal to her body. About 13 padlocks (mostly with different keys) were needed to lock Melissa in her full metal chastity outfit. She looked stunning! The gloves and stockings really are a good idea! She had a red dress and heels with her, so we tried that on too, on top of all the gear. Great fashion, every girl should be dressed like this!
Melissa was locked in a collar, chastity bra, chastity belt, thigh bands, wrist cuffs, and ankle cuffs. She was in this gear before, so it was not a surprise for her, she just posed for the pictures and video as if it was a fashion shoot. I love Melissa, such a hot girl, completely used to my crazy shoots. Can't wait to have her back again for some nice Challenges!