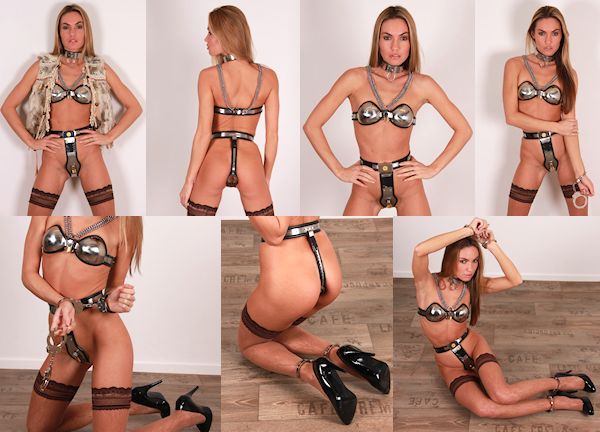 Remember the very gorgeous fashion model Sylvie? She was only featured on this website once so far. And I thought she would not come back, because she is such a big star! She models the most famous fashion brands in the world (of course her real name is not Sylvie, but don't comment with her real name please).
When I received a new version of the adjustable chastity bra, I knew I needed a fashion model to present it to you. So I contacted Sylvie again, and she was up for it! Not just that, she also happened to mention that she loves handcuffs! A totally unrelated piece of fetish gear, but I am always open to include extra things in the shoots if models insist.
What's new about this chastity bra, you will be asking by now. Well, if you look closely, the cups have a different design. They are not round but they are droplet shaped, which means they are slightly pointy at the top. The cups are very small, and they only seem to come in one size. I am not sure I like this new design, as the top bit pokes into the chest too much, which won't be very comfortable while a girl is trying to sleep.
Still, variation is good, and the awesome Sylvie in a tiny chastity belt, chastity bra, collar, and handcuffs on wrists and ankles is always a nice sight! She even wanted to cuff herself! I think Sylvie is secretly very submissive, and I might be able to convince her to come back more often!
Also included is a funny behind-the-scenes bit when she had suddenly disappeared to have a smoke outside, still locked in all her chastity gear. She really loved this shoot, and so did I!