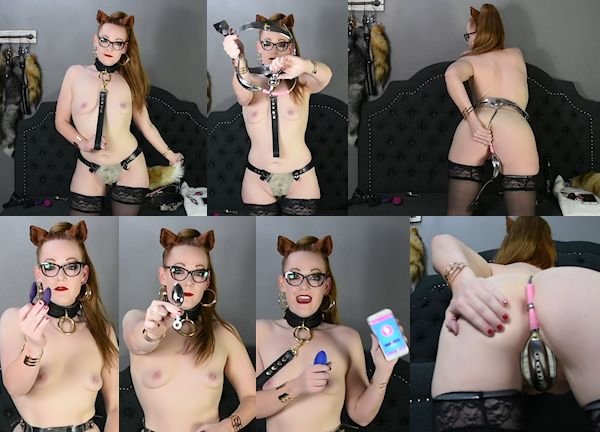 KittyDenied, the feline chastity girl from the USA, has collected an impressive amount of plugs, vibes, and tails. I asked her to do a video update about some of those plugs and vibes, to find out which ones work best with her FancySteel chastity belts.
With her cat ears and tail butt plug, KittyDenied looks pretty cute in her hybrid style FancySteel. She is in her room, and the walls are lined with more tails and plugs! Kitty shows you her favorite 3-ball butt plug that goes onto her other FancySteel belt's back wire and she inserts it without problems. A vaginal plug slots into the front shield and also slides in. Once the belt is locked on, there is no way for her to get the plugs out, which gives her a great double stuffed feeling.
She proceeds to show us many vibes that can be placed inside her dome front shield. Most of her vibes are very powerful, as they go right on her clit, pressed up against her very well by the tightness of the chastity belt. Also, most of her vibes can be controlled by an app on a phone, from anywhere in the world! Sir and Kitty can be at their respective jobs and still he can control her whenever he wants, vibrating her in one of the many power settings and patterns available through these apps. Without a key, it is impossible for Kitty to remove the vibe, and she never knows when it will be turned on.
Kitty also shows us a bigger butt plug that is a little more challenging to wear, and she tells us a LOT of interesting information in this long video. If you are interested in a lesson in chastity belt plug and vibe use, don't miss this awesome video by this famous Chastity Babe!